Asha & Helen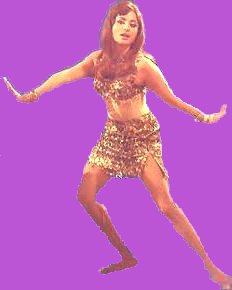 According to Asha, there were three turning points in her career. 'After doing ordinary work for many years ,there came 'Naya Daur' in 1959 and I started getting the heroine's songs. In 1968-69 came another phase with R.D.Burman and Teesri Manzil then another phase with Khaiyyam and Umrao Jaan. Asha says she enjoyed working with all the three composers O.P. Nayyar,R.D.Burman and Khaiyyam who could rightfully be considered the architects of Asha's success.
But another person had an indelible effect on Asha's career and Asha on her's.She was none other then the Golden Girl of Bollywood Helen. Ashaji recalls 'Just like Krishna had many wives but he was known as Radha's Krishna, the same way many singers had sung for Helen but whenever you talk about Helen you remember Asha and when you talk about Ashaji you remember Helen." Every time Ashaji was about to record a song for Helen , Helen used to call Asha reminding her that it was her song & just before the recording she used to send a Chocolate for Ashaji. Though both Asha & Helen came into focus with the film Howrah Bridge (1958) but both for different songs, Asha for Aaiye Meherban picturised on the Venus of Bollywood Madhubala and Helen for Mera Naam Chin-Chin Choo rendered by Geeta Dutt.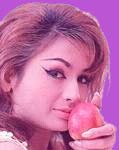 Can anybody imagine a Helen dance number in the potboilers of the '60s and '70s without the melodious voice of Asha Bhosle. Asha's voice has a lilting sensuousness and gells well with the sexy cabarets of the Hindi films. Be it Piya Tu Ab To Aaja (Caravan),Karle Pyar Kar Le (Talash),O Haseena Zulfon Wali(Teesri Manzil) or Yeh Mera Dil Yaar Ka Deewana (Don).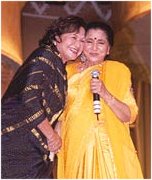 Having accomplished a career spanning over a quarter century Helen has remained a unanimous choice about the best dancer Indian films ever saw. Helen's was the art of the 'clean cabaret'and the grace of a darting goldfish. She made the titillation look aesthetic - and that's what made her distinctive. With her slit skirt and swelling hips, she provided the diversion while the plot thickened elsewhere. Her body language made her a mind bender , Helen is also remembered for her strong 'acting role' in Gumnaam & Lahu Ke Do Rang.
At this time, she is nearing the other side of 50, slightly heavy on the hips but well preserved on the whole. With a talent that launched a 1000 films, she lives a quiet life on the fringes of filmdom today. Satisfied with her achievements, but humble all the same.
View Gaurav's Guestbook

Sign Gaurav's Guestbook
Click Here For the Asha Bhosle Group

This site has been designed by Gaurav Kumar
Site best viewed in 800x600, Internet Explorer